At elcap, we consult a lot of businesses on how to improve the digital experience for their prospects and customers.
One of the most transformative projects is to implement a marketing CRM.
But what exactly is a CRM? Should you adopt one? What are the best tools to use?
Read on for everything you need to know about a CRM.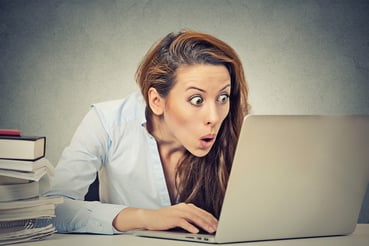 What is a CRM?
A CRM enables a way to manage customer relationships. The acronym stands for Customer Relationship Management.
CRM tools enable your business to improve and augment the customer experience.
But implementing a CRM does even more than that.
A CRM that is integrated with your website, such as HubSpot, will give you a complete view of the customer journey.
You'll be able to easily see which of your PPC adverts they clicked on, which social media posts they reacted with, what emails they clicked, what pages they viewed, what videos they watched, meetings they've booked, and so much more.
The CRM eliminates the guesswork. Marketing decisions are based on data and customer insights. See the trends and the big picture through live dashboards.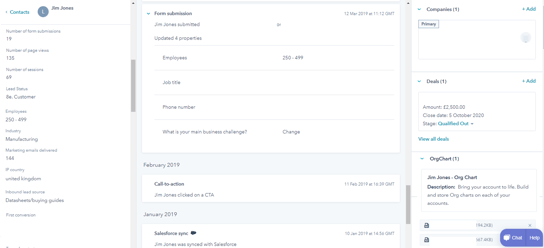 Image: a live CRM (HubSpot) - drill down into a single record or view trends through analytics.
Why should you adopt a CRM?
The main benefit of implementing a CRM is business growth. It's easy to scale, manage opportunities and put marketing at the centre of the customer experience with a CRM.
However, a well-implemented, fully functioning CRM will improve a balanced scorecard of business metrics:
Maximise market opportunity

Data mining, SEO analysis, personas

No. of opportunities

Deal velocity

Conversion rate at each stage to accelerate time to order.

'Fail fast' mentality. Accelerate sales journey.

RFV (recency, frequency value)

Business intelligence

Competitive positioning, lead score

Forecasting

Revenue

Churn rate, AOV

Profit, growth, market share

Customer Happiness

Growth of Net Promoter Score

Time to value, Opportunity, £ value
From a marketing perspective, the CRM provides the ability to systematically capture, nurture, automate and report. Scale without having to increase the headcount of your team.
What tools are available?
There are many CRM tools available on the market.
The most common CRM tools are:
HubSpot
Pardot (Salesforce)
Marketo
Infusionsoft (for small businesses)
Monday.com
What is the cost of a CRM?
The cost of a CRM will vary based on the size of your business, features, maturity of system etc.
As a rule of thumb, businesses expect to spend approximately 3% of their revenue on technology systems, and approximately 10-30% of the technology budget should be allocated to a CRM.
As a CRM matures, it will eventually be used by (almost) everyone in the business, as a crucial tool to deliver rich insights and improve customer experience.
How to implement a CRM?
Implementing a CRM shouldn't be a one-off project. It's a living, breathing tool which needs to evolve with your business. This means you will either need to employ someone to manage your CRM and marketing automation, or outsource it to an agency like elcap.
Elcap manage a range of CRMs for our customers. For example, we are a HubSpot partner, which means that we manage the data, marketing, websites, automation, workflows, dashboard set ups, integrations etc. on behalf of our clients.
How long does it take to implement a CRM?
Before just buying an annual license to a tool and getting set up, it helps to plan your CRM for optimum scalability. One of the biggest mistakes when implementing a CRM is not planning for long-term. There's going to be a natural evolution of your CRM as adoption of the tool matures, so process, documentation and data capture strategy are key.
Elcap can work with you to plan, implement and manage your CRM properly. We can get you set up in days, but will also show you how to make sure that your tool continues to work.
Get in touch?
elcap implement and manage CRM systems for a number of our clients. If you are considering investing in a CRM get in touch with our team to discuss your opportunities.
Emily is Head of Digital Marketing at elcap. She manages SEO, adwords, social media and content for many of our clients.