WordPress is great, we love it, in fact, we build lots of fully bespoke websites on WordPress, we've even built some web apps using the WordPress core.
WordPress often gets a bad reputation due to the amount of free and/or cheap themes available on marketplaces. If WordPress is used as the basis of a fully custom website it's still a fantastic tool to build your business website with. However, we're not here to talk about that on this blog, we're here to talk about the HubSpot CMS, and why for many b2b businesses, it should be considered as an alternative to WordPress.
HubSpot's sales and marketing ecosystem provides businesses with everything they need to manage the entire customer journey in one single, unified platform.
But is now the right time for you to migrate your website from WordPress to the HubSpot CMS? Let's take a look at some of the reasons for and against migrating your website.
What is HubSpot CMS Hub?
CMS Hub is a cloud-based content management system. With CMS Hub, you can create amazing websites focused on the entire customer experience.
Easily create content, optimise the website for conversions, and gain insight into your performance all in one place. Like WordPress-based websites, your HubSpot-powered website can have a fully bespoke front-end theme or you can choose a templated theme from the HubSpot marketplace.
What are the benefits of migrating from WordPress to HubSpot?
1. It's easier to understand marketing performance in HubSpot
Of course, WordPress has thousands of plugins you can install to gain insights and help integrate third-party software suites, but nothing compares to HubSpot for its focus on results. You can integrate a CRM with your WordPress website (we've done this for many of our clients) but you'll still have to report your website metrics separately to your CRM metrics, which again will be separate to your social media metrics, and so on and so on.
With SEO recommendations, contact attribution reporting, email and social media reporting, and adaptive testing all built-in, HubSpot makes it easy to have a complete picture of which marketing campaigns are generating results, and which can be ditched.
2. It's easier to manage security in HubSpot
WordPress is an open-source platform, so security is solely your responsibility or you pay handsomely for your agency partner to host and patch your website regularly to stay secure. With HubSpot CMS Hub, you get a standard SSL certificate, web application firewall, and 24/7 security and threat monitoring out-of-the-box, all hosted on enterprise-level cloud servers. Maintenance and updates are all handled by the HubSpot team, so you don't need to pay anyone to perform regular maintenance work on your site as you do with WordPress.
3. Fewer development options in HubSpot
Every business owner's worst nightmare is discovering that their original website developer can no longer work on a website and their code needs to be unpicked by the new developer, who eventually decides it's much faster and more efficient to rebuild the website. This, unfortunately, happens a lot with WordPress websites due to the very nature of open-source technology being so incredibly flexible and granular that one WordPress developer can have a very different view of developing on the platform to another.
Developing websites on the HubSpot CMS is less open to spurious techniques and are generally built by HubSpot partners (like elcap) who know how to get the most out of the platform. If then, for some reason you need to move your website to a new agency partner, well that should be fairly straightforward as long as you choose a reputable HubSpot-approved agency.
4. Free integrations with HubSpot
Script editors, analytics tools, image optimisers, SEO enhancement tools - you name it and there are likely 100+ WordPress plugins that you could install on your website.
However, WordPress integrations can be costly and must be regularly updated to keep your business protected. Most of HubSpot's integrations are free and bring even more data into your ecosystem.
5. Need for speed
Having a fast-loading website is essential to provide a good user experience. It's also essential for SEO performance. WordPress websites can be built to run quickly, but this takes skill and a significant amount of manual optimisation. Most WordPress websites, especially those built on commercial templates, tend to be bloated and fail Google core vitals tests.
HubSpot CMS Hub is built for speed:
HubSpot automatically minifies JS and CSS

HubSpot automatically resizes, compresses, and optimizes images
AMP can be also be enabled on your blog
6. HubSpot provides the best return on investment
Ok, HubSpot isn't a cheap tool. Some packages can be tailored to meet your unique requirements. For most businesses, HubSpot will cost you somewhere between £450 to £40,000 for the year, but this of course all depends on your needs. HubSpot offers various packages to support businesses of all sizes, from start-ups to enterprise organisations. What's more, for businesses who want to gain a clear picture of the sales and marketing ROI, HubSpot pulls out its trump card, the base CRM is free, as are several of their other marketing tools! If you want to see how your leads are being generated, what marketing activity your contacts are engaging with, and how they go through the transition from unknown contact to prospect to customer, then HubSpot is the way to go. When you consider the costs of hosting and monthly security retainers for a WordPress-based website, which the HubSpot CMS fee includes, it's actually pretty good value for money, and if you do spend further budget on marketing outside of your website then it's definitely worth a look.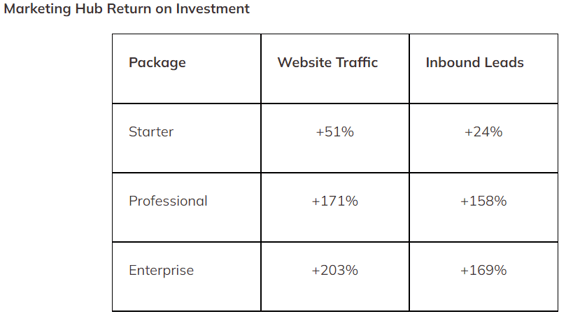 Some key stats:
One year after purchasing HubSpot, customers record 92% more closed-won deals on average.

One year after purchasing HubSpot, customers see a 41% improvement in their deal close rate.
What are some of the cons of HubSpot?
The main challenge with HubSpot is getting the system set up and configured to meet your business goals. You may also have a non-HubSpot CRM suite in place, in which case you may want to stick with your WordPress website with a standard form integration.
However, HubSpot has thousands of agency partners, such as elcap, who can support you in your HubSpot journey, migrate your WordPress site to HubSpot, train you and help you to embed HubSpot for everyone in your business. We can even migrate your Salesforce CRM to HubSpot!
Unlike many other agencies, at elcap, we take on the heavy lifting of setting you up. We take an agile approach - this means we look at your needs - whether that's data cleansing, template optimisation, content writing, or form updates - and we tailor a package to meet your needs. Few agencies will partner with you to this extent.
Want to talk HubSpot?
Schedule a chat here to discuss your HubSpot website migration needs.
Is HubSpot right for you? Schedule a chat with our team to discuss your options
Emily is Head of Digital Marketing at elcap. She manages SEO, adwords, social media and content for many of our clients.