We see it time and time again...
A website is built and it initially looked great. The company spent 'the big bucks' on it.
It's got a sleek new logo, fresh branding, flashy new graphics, smart copy statements, etc.
But then three, six, and eventually twelve months pass after this new website was launched, and there hasn't been an uplift in a single core metric.
Impressions, traffic, conversion rate, marketing qualified leads, revenue performance have all either plateaued or declined.
The new flashy website is a failure.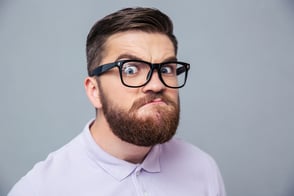 Why?
Nine out of ten times, it's because the user experience has not been considered.
Pages have been mashed together, and the customer journey is sloppy. Content is repeated or is in the wrong places. Users cannot find the information they need to convert. Eventually, a high bounce rate and poor on-site experience leads search engines to believe the site isn't relevant, so rankings drop and it's a long uphill slog to improve them.
This is the reason every new website project should focus on User Experience (UX).
Run (very fast) in the other direction if a website development company doesn't mention UX in the first five minutes of talking with them. Negative digital user experiences are enough to break even the most successful businesses.
So, what is UX? How do you incorporate good UX into the website? And as a UX-first, digital agency - what advice can elcap give you to plan for UX?
Let's take a closer look...
What is UX?
UX is the beating heart of a successful digital journey for your customer personas.
A good user experience is about understanding whom the core audience is, what they want to achieve, and making their digital journey seamless.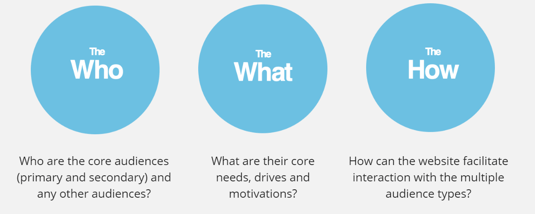 There are five fundamental tenets of good user experience:
Psychology:

What are your users looking for?
What will a user expect when they click somewhere?
How are you rewarding good behaviour?
Usability

Could you make their job easier?
Does their journey represent the brand?
Is everything where is should be so the journey is subconscious?
Design

What is it?
What are the benefits for the user?
What should they do next?
Copywriting

Is the copy clear, direct, simple, and functional?
Analysis

What does the data tell us about users?
What's the conversion rate at every stage?
What is the true user experience?
8 tips from the elcap team for excellent user experience:
Tip 1: Start with a stakeholder survey
Stakeholder surveys help to unveil ideas and explore new potential avenues. Your team probably have the strongest opinions of everyone about your website and the digital experience. Use these insights as opportunities to develop hypotheses about the challenges users might be experiencing.
Tip 2: Study how your website visitors use your website
Gather qualitative and quantitative research to understand where users are struggling and what could be improved.
Add a behaviour analytics tool tracking script to your website and let it run for a few weeks to gather data on how users interact with your website pages.
Most behaviour analytics tools provide the ability to review heat maps, click maps and scroll maps. It can also be helpful to create quick pop-up polls to find out more about the type users visiting your website e.g. 'did you find what you were looking for?'
Tip 3: Speak to real users
Experience enables UX professionals to apply a certain level of opinion and conjecture when it comes to designing websites for users. This is a solid starting point and the basis of our hypothesis.
However, you cannot ignore the importance of speaking to real users. Talking to real prospects, customers, and former customers allows practitioners to gather real feedback on how easy or difficult it is to complete tasks on your website. Without this feedback, important website decisions are based on assumption which may not be the reality of your customers.
There are a couple of ways elcap help clients to undertake real user research. We either facilitate usability testing at a specialist UX lab, or remotely via a service such as https://userbrain.net/.
​

Tip 4: Align with the business strategy
Many businesses down-sell to win new customers, with the aim of optimising for the customer lifetime value. For many businesses, this means making the first initial sale as easy and pain-free as possible. But a website which shows everything to everyone dilutes this message. Your UX strategy needs to incorporate the business strategy - align with the sales process, top management, and customer service.
Every aspect of customer experience (CX) should be feeding into your user experience (UX). Bring in your wider team to get their insights.

​

Tip 5: Review what currently works
The worst thing a business can do is strip out what is currently working on a website just because they want to update the user interface. It's important to understand why something works and how that can be improved.
Take a deep dive into your analytics: What's the traffic doing? How long are users staying? Where are they going? What content converts?
​

Tip 6: Implement a CRM
Is one of your persona groups likely to look at 100+ pages on your website before they buy? Or do they look at one or two pages? What visitors do you need to cater for in the Decision Making Unit (DMU)?
CRM software, such as HubSpot, can show the entire customer journey.
This data is crucial for really understanding what's important, how customers buy, and then optimising for conversion.
Here at elcap, we are proud to be HubSpot partners, get in touch if you'd like to learn more about our HubSpot services.
​

Tip 7: Look at the total user experience
User experience doesn't end after the initial enquiry. It's about a seamless service: from their follow up information to interactions on social media to how they provide feedback on your brand. elcap design this into our process - we plan for the entire customer journey for you.
​

Tip 8: Kick off with a UX workshop
Starting a new website project with a UX workshop is a great way to identify opportunities early, set goals, plan and explore new ideas from stakeholders across the business.
Want help with your UX? Get started with one of our UX workshops.
Our 6-hour workshops bring stakeholders across your business together to review and plan a better user experience for your digital strategy. These sessions we get as many ideas, data, examples, user stories etc. put down on our Miro board.
You'll benefit from an interactive, challenging environment which will form a strong basis of your updated, reiterated, successful website.
Book a meeting to discuss your project or email us hello@elcap.agency.
Let us help improve your user experience.
Request three free UX tips for your website:
How does it work? Our team will take a look at your website, then within 3 working days we will send you a video with three recommendations to improve your UX.
Emily is Head of Digital Marketing at elcap. She manages SEO, adwords, social media and content for many of our clients.