Not all apprenticeships involve running around London searching for random items and a weekly cull like a popular TV series might have you thinking.
But they are an exciting career option.
You get hands-on training and the chance to put your skills into practice.
I caught up with Harrison Buckley to learn more about the first three months of his Software Developer Apprentice at elcap.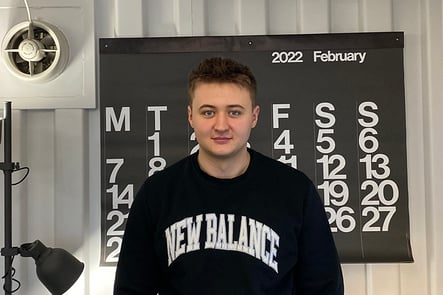 Why an apprenticeship?
I was doing an Open University course in Computer Science but really wanted to get more real-world experience.
My partner knew Andy from the gym. And after a chat, it turned into a job opportunity!
So I took the leap and joined elcap in October 2021.
As there's a nationwide skills shortage for computer software developers, there are a lot of government initiatives funding training in this area. The apprenticeship program enables me to get excellent training I can apply to my daily role.
Why elcap?
There are two main reasons. The first reason is that we are a small, but expert team. This gives me the opportunity to learn lots of different skills. I can improve my development skills and improve my soft skills such as networking.
The second reason is the plethora of organisations who elcap work with. For such a small business, our robust processes mean we are able to confidently service many small, medium and even enterprise organisations. I get to work on really exciting projects with the help of our Head of Development, Ali.
How does your apprenticeship work?
The apprenticeship body is through QA.
It's a 15-month curriculum with live sessions which vary from two days to three weeks. The next module starts in April and it's focused on Use of Agile, Software Development Lifecycle and Amazon Web Services. The course curriculum is highly relevant and practical, so it's easy to apply everything I learn. There are also labs so I can test new codes in a learning environment.
What types of projects have you worked on so far?
Since I started three months ago, I've already had the opportunity to work with several clients such as Wheelwash and Operational Group.
But my main focus has been learning lots of coding languages, systems and programs. For example, I've been learning Hubble, PHP, Javascript angular & react, Wordpress CMS, and Hubspot CMS.
How does the apprenticeship body QA support you?
The best thing about doing an apprenticeship is the blended learning environment. There are formal classes where you learn the theory and you have a dedicated mentor.
When it comes to learning a new coding language, I do the basic course on treehouse, then go on Youtube to find the best tutorials, then I can have a tinker.
A lot of the time it's about using trial and error and it's these problem solving skills that are important for a software developer.
What are you most looking forward to during your apprenticeship?
I am really looking forward to working with lots of different customers and getting exposure to exciting projects. For example, I'm also really looking forward to seeing a Javascript square footage calculator that I developed going live.
What you should do next:
Inspired by Harrison's story?
Elcap is hiring in 2022!
We welcome candidates with different experience and backgrounds to get in touch.
Whether you want to upskill or reskill, we are focused on continuous professional development. Contact the team hello@elcap.agency with your application.
Emily is Head of Digital Marketing at elcap. She manages SEO, adwords, social media and content for many of our clients.